Shelf liners are much-needed in the kitchen to protect the surfaces of your cabinets, cupboards, and drawers from stains, moisture, and oil spills. These kitchen accessories may be adhesive or non-adhesive. They are durable and flexible and come in attractive designs and colors. Also, most of them are washable and have an anti-slip surface, ensuring a better grip.
Mentioned below is a list of some of the best kitchen shelf liners to enhance the durability of your kitchen cabinets and storage drawers. Go through the pros and cons of each product and select one that meets your requirements and expectations.
Types of Shelf Liners
Shelf-liners are categorized based on the material used to make them.
Fabric: Fabric shelf liners are generally non-adhesive and soft in texture. These are mostly washable and can easily be reused. Being non-adhesive, the fabric shelf liners do not leave behind any unwanted sticky residues on the surface of shelves/cabinets/drawers.
Vinyl: Unlike fabric liners, vinyl shelf liners are relatively thicker and can be both adhesive as well as non-adhesive. Though durable and budget-friendly, these liners may not be reusable. The adhesive vinyl liners, in particular, can be a little messy, leaving behind unwanted residues on the surface used.
Foam: Foam shelf liners come with a better grip and are an ideal choice for shelves used for storing delicate crockery and glassware.
Plastic: Unlike fabric, vinyl, and foam liners, plastic shelf liners may not be easy to trim. However, they compensate for this with their spill-proof and waterproof properties, thereby keeping the shelf/cabinet surface clean, dry, and moisture-free.
How To Install A Shelf Liner?
Installing a shelf liner is simple and involves the following steps:
The first step is to ensure that the shelf liner is of the right dimensions to fit your shelf/cabinet/drawer perfectly. You can use a measuring tape or ruler to mark the dimensions of the drawer/shelf on the liner and cut out the desired pieces.
For better installation and fitting, you have to flatten the shelf liner(s) before use. To do so, you can either roll the liner backward or press it down gently with a ruler.
Clean the shelf surface and interior before using the liner.
Once the shelf is clean and dry, remove the backing, stick the liner on the shelf, and smooth it out by pressing uniformly, following the side to side pattern.
Be a little careful with the adhesive shelf liners so that there are no creases or bubbles while sticking on the shelf.
You can also use a hairdryer to flatten the liner edges properly. Hold the dryer at a distance of about six inches from the liner to avoid creasing.
11 Best Shelf Liners
1. Drawer and Shelf Liner by Gorilla Grip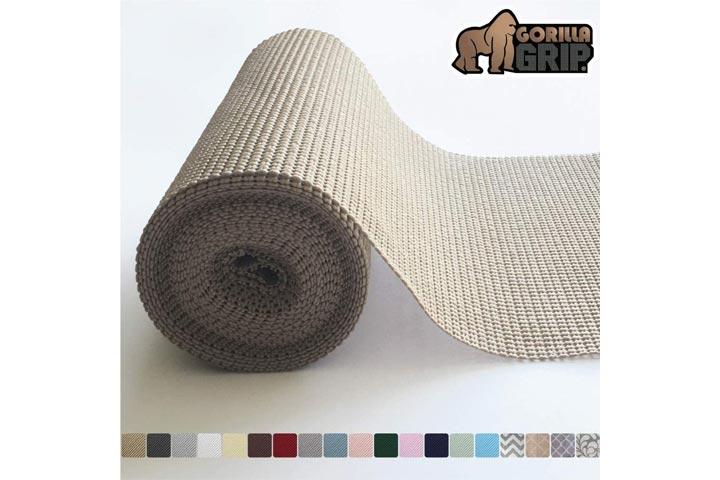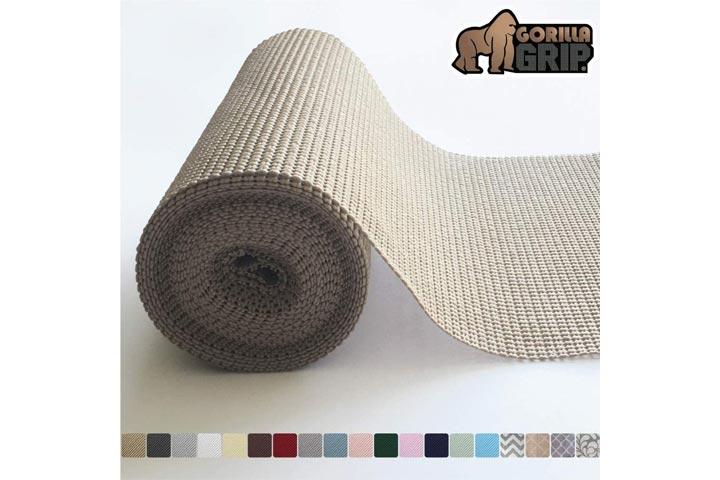 The Gorilla Grip shelf liner can keep your kitchen cabinets and drawers clean and organized. Made of premium-quality material, the non-adhesive liner goes a long way to prevent incidences of slipping and clumping inside the shelves/drawers. The versatile liner roll measures 2″ x 20′ (pre-cut pieces). You can clean the shelf liner with a sponge/ damp cloth and mild detergent or soap solution.
Pros:
Unique open-grid design to prevent unwanted debris and dirt from piling up in the shelf/cabinet
Pre-cut sizes that can be trimmed as needed for easy installation
Strong grip to keep the delicate glassware and crockeries in place
Cons:
May not stay flat in the cabinet shelf
May not be durable
2. Spice Drawer Liner by YouCopia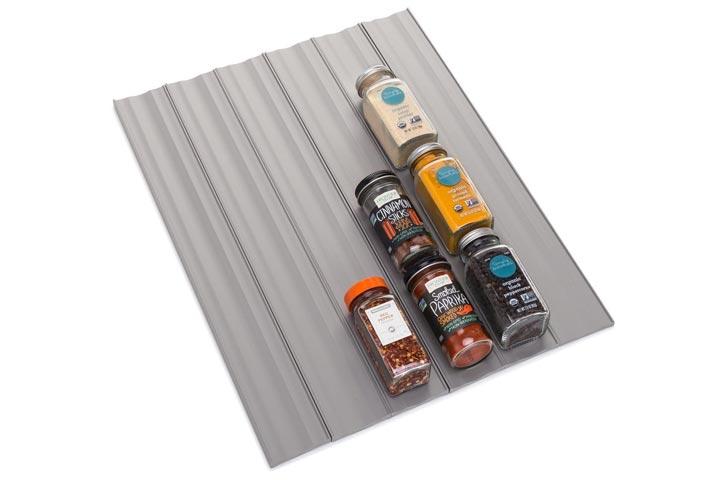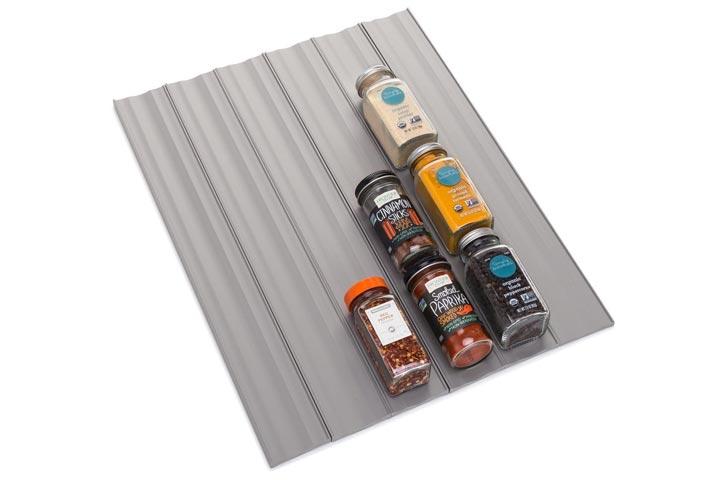 If you are looking for a drawer liner to keep your spice bottles organized, the product by YouCopia will not disappoint you. With this 10ft long roll, you can store and organize more than 30 spice bottles in your kitchen drawer. The liner is non-adhesive and can be easily removed without leaving behind any sticky marks or stains in the drawer.
Pros:
Made of premium-quality foam to keep the spice bottles firmly in their place
Odor-free and anti-slip
Simple and easy installation; no mounting needed
Affordable
Cons:
May not fit tightly inside the drawer
May not be as long-lasting as advertised
3. Plast-O-Mat Ribbed Shelf Liner by Warp Brothers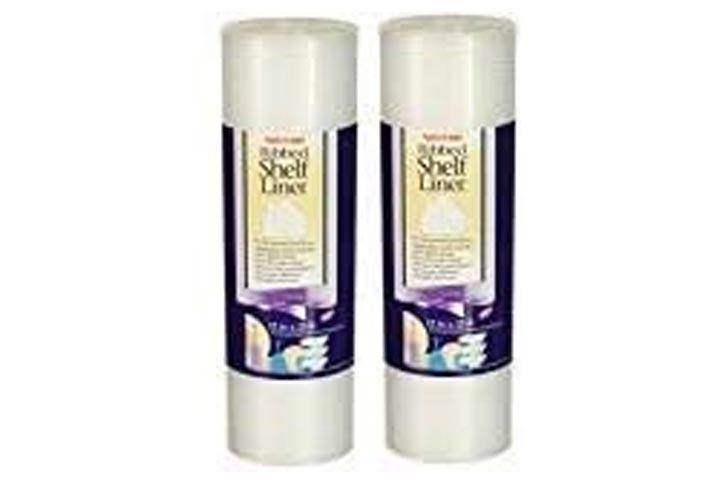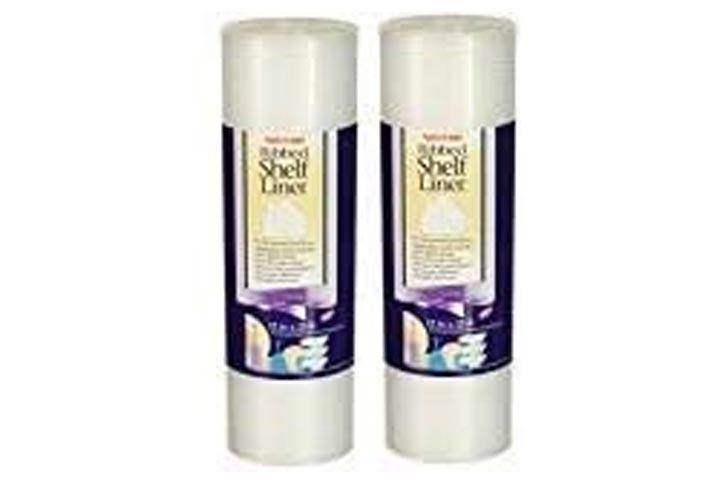 The kitchen cabinet shelf liner measures 12″ x 25′ and can be used on different surfaces, from kitchen cabinets to office drawers and countertops. The product comes with a ribbed cushioning to provide extra protection to your glassware, crockery, mugs, and office essentials. You can clean the shelf liner either with a sponge or a wet/damp cloth.
Pros:
Made of BPA-free, waterproof, and high-gloss plastic
Anti-slip, stain-proof, and stench/odor-free
Can be measured, cut, and installed easily
Comes with an easy-glide surface
Cons:
May not lie flat on the surface
Cannot be cleaned in a washing machine
4. Shelf Liner by Smart Design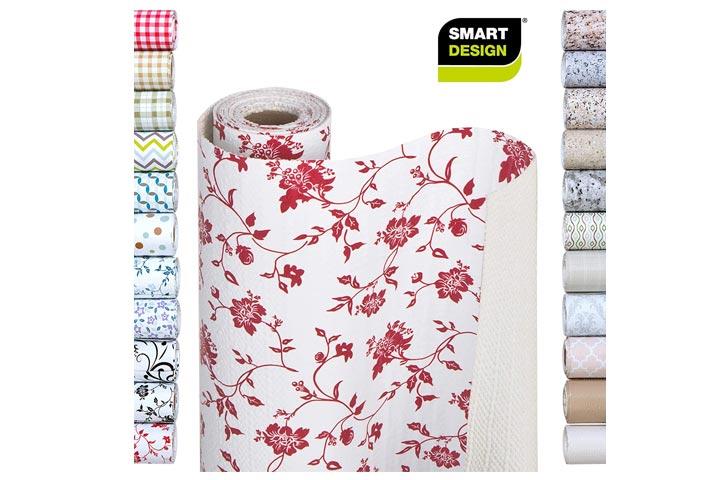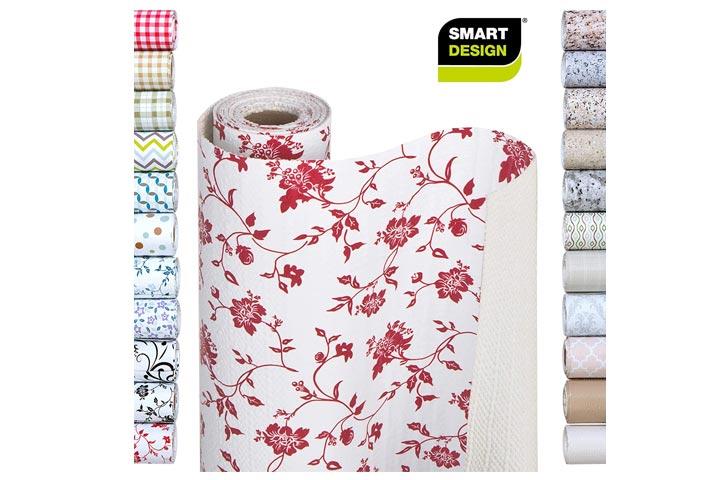 The shelf liner has a cushioned bottom with a plastic layer on the top. An ideal shelf liner for kitchen cabinets, shelves, drawers, and countertops, the product comes with a bonded grip to prevent slipping and sliding. It measures 12inx10ft and can be cleaned with a mild soap solution and water, but not abrasive cleaning agents or bleach.
Pros:
Available in a wide range of colors, size, and designs
Hassle-free cutting and installation
Durable with a non-paper layer
Cons:
May not be a durable liner
Bonded layers may peel when unpacked
5. Plastic Shelf Liners by Amorus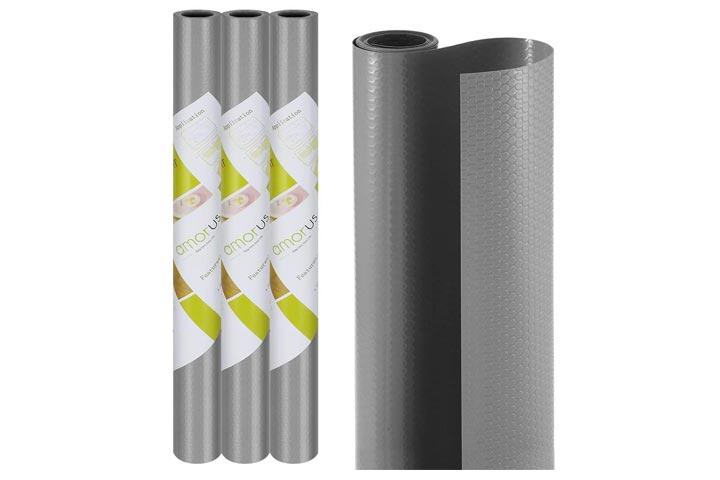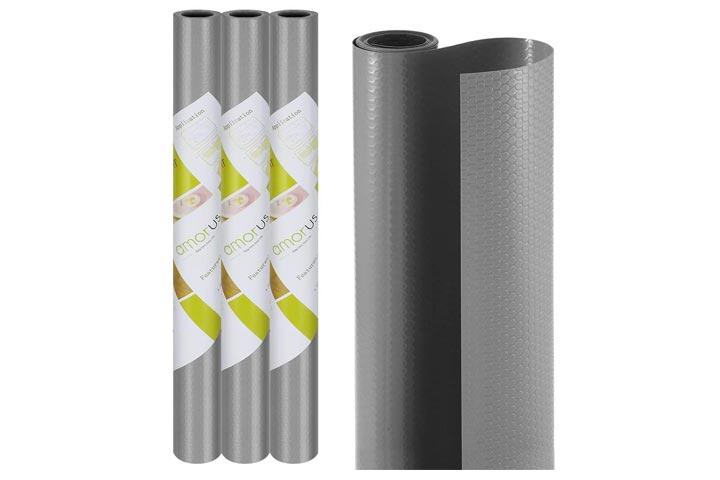 This multipurpose product can be used as a shelf liner, refrigerator mat, or table mat. The shelf liners are non-adhesive and come as a set of three 17.7" x 59" rolls. Non-toxic and easy to cut, the liners can be wiped clean with a damp cloth or washed in water and mild soap solution.
Pros:
Made of BPA-free, stench-free, EVA food-grade plastic
Durable and easy to install
Anti-slip and waterproof
Can be used to place vegetables and fruits
Fast drying and reusable
Cons:
May cause bunching and sliding
Size chart may be misleading
Sides may curl up
6. Shelf Liner Paper For Cabinets, Kitchen Shelves, Drawers by DII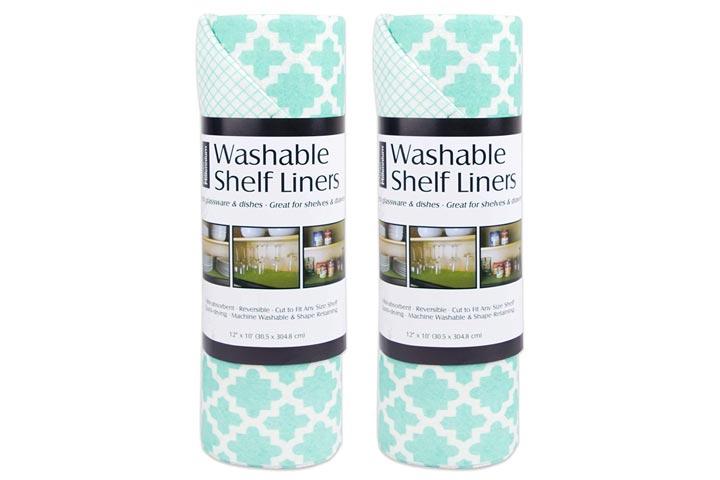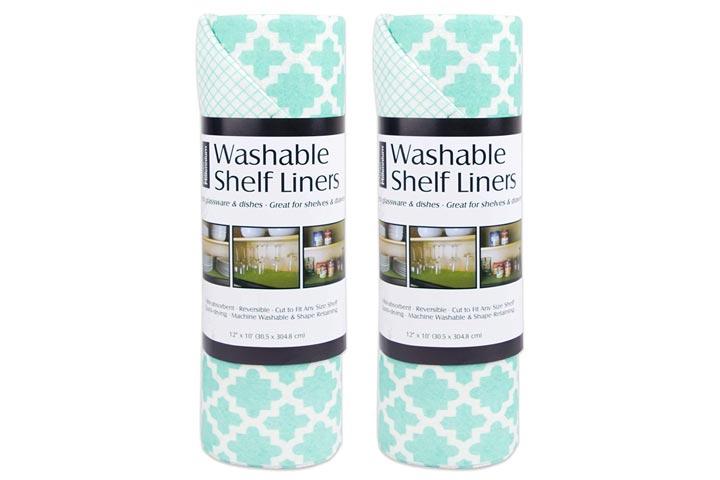 This product by DII comes with a fine non-adhesive cushioning that helps keep the delicate glassware protected and in place. One of the best shelf liners for kitchen and home, the product measures 12″ x 10′ and can be machine-washed. For durability, avoid using fabric softener or bleach when washing it.
Pros:
Made of viscose (60%) and polyester (40%)
Can be cut to fit shelves of any size
Reversible and retains its shape
Can be used to line the compartments in the refrigerator as well
Cons:
May appear flimsy
May slide on the shelf
7. Adhesive Drawer and Shelf Liner by Con-Tact Brand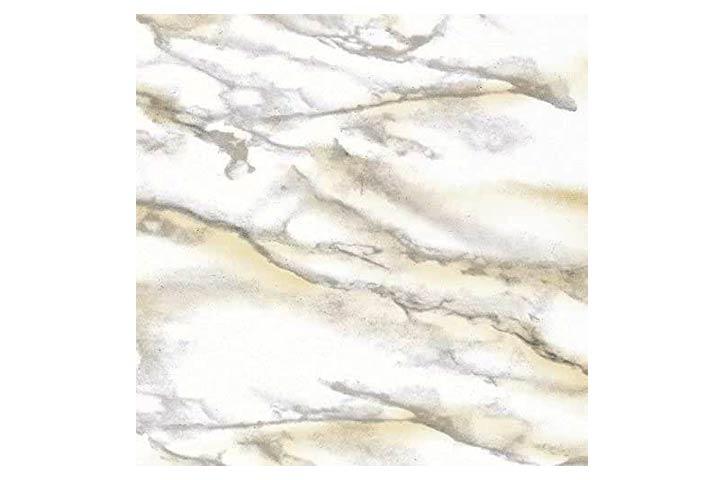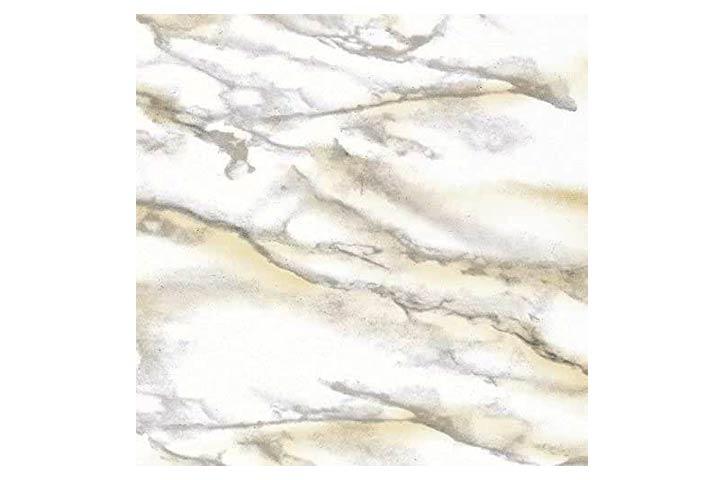 The product by Con-Tact Brand comes in attractive colors and designs to give your kitchen cabinets and bathroom countertops a fresh and revamped look. Made of high-quality vinyl, the waterproof shelf liners measure 18″ x 20′. To install, clean the surface with water and soap solution. Once the surface is dry, peel the backing off the liner uniformly. Next, lay the liner flat on the smooth surface, starting with the corners.
Pros:
Comes with hassle-free peel and stick installation
Leaves behind no adhesive stains or residues when removed
Backing paper comes with a unique measure-and-cut grid
Durable even after multiple uses
Can be cleaned with a damp/wet cloth
Cons:
Edges may not stick well to the surface
May not be as thick as advertised
8. Non-Adhesive Drawer Liner by Tonw's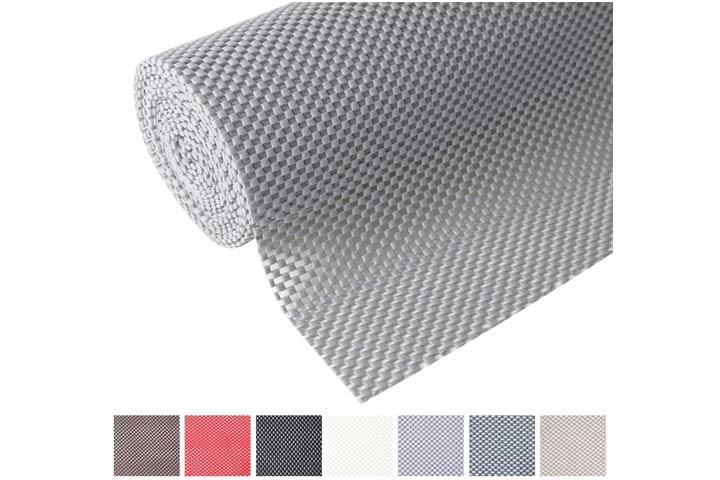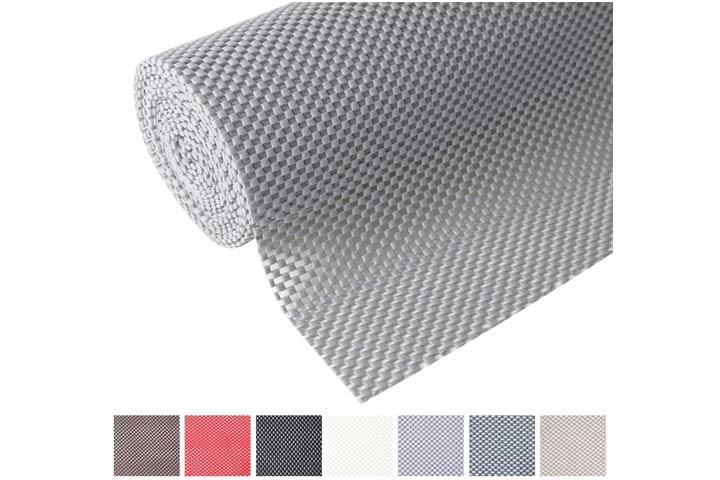 This anti-slip shelf liner by Tonw's is non-adhesive and has a unique double-sided design that serves as a thick cushion to safeguard the items resting on it. One of the best shelf liners for the kitchen, you can use the versatile product for cabinets, sideboards, shoe rack mats, placemats, and car linings. Easy to cut and install, the liner measures 12″ X 20′.
Pros:
Strong grip to keep the items securely in place without any bunching or slipping
Eco-friendly and can be recycled multiple times
Can be cleaned with a mild soap/detergent and sponge or a damp cloth
Made of premium-quality tough mesh (layered) and soft foam
Cons:
May not stay in place; could curl up
9. Premium Shelf and Drawer Liner by Drymate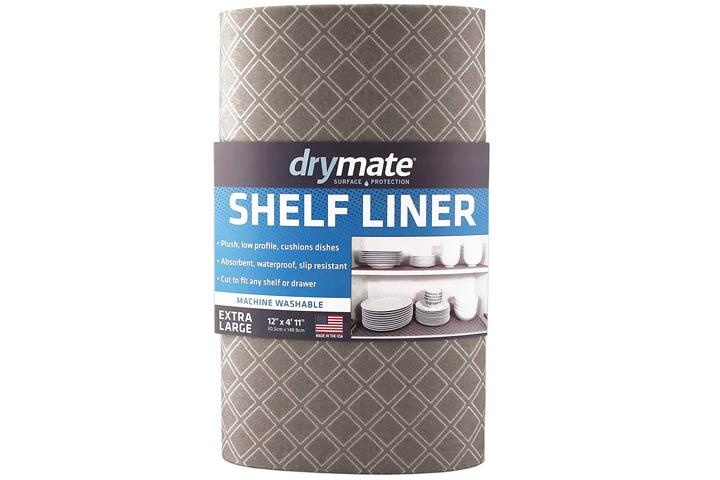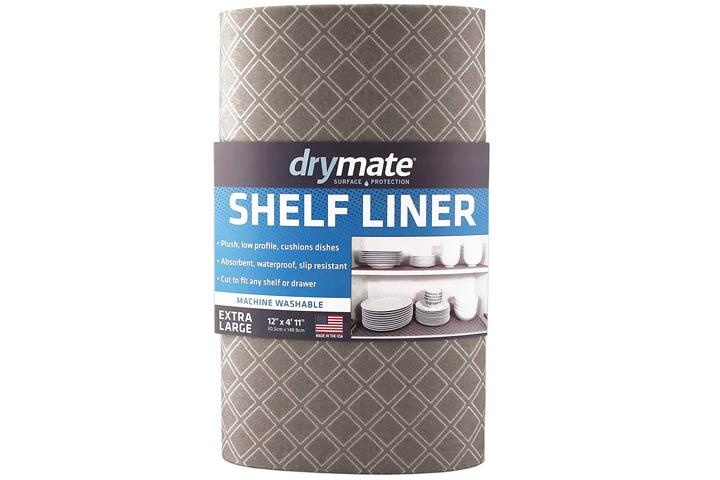 The kitchen cabinet shelf liner is waterproof and safeguards the storage area from unwanted scratches, debris, and spills. It is extra-large, measuring 12″ x 59″ and can be machine-washed. The non-adhesive liner can also be cleaned/scrubbed with a mild soap solution and water, but not with bleach.
Pros:
Made of durable, recycled (50%), and absorbent fibers
Free of BPA and phthalate
Cut to fit any shelf (universal fit) for easy installation
Anti-slip backing to negate the liner from slipping or bunching
Cons:
May not be of premium quality as advertised
10. Shelf Liner by Anoak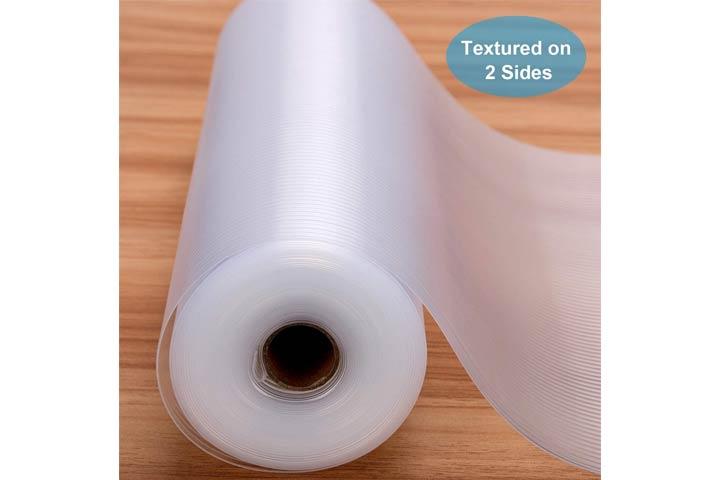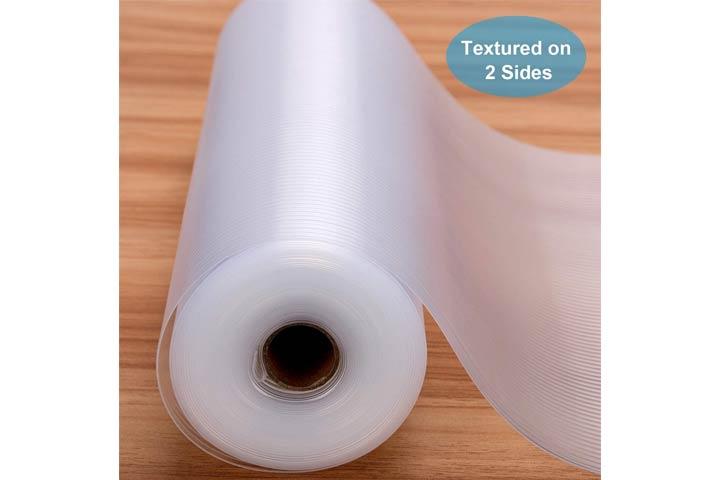 The product by Anoak can be used as a cabinet or refrigerator shelf liner to keep the surfaces well-maintained and free of grease, stains, and debris. The non-adhesive shelf liner is dishwasher-safe and can be cleaned with just plain water too. Ribbed on both the sides, the shelf liners measure 12″ x 20′.
Pros:
Double texturing (both the sides) for secure fittings and grip and to prevent delicate glassware and crockeries from slipping
Universal fit with a simple and hassle-free installation
Made of premium -quality, food-grade EVA for a long-lasting and optimal functionality
Does not curl up upon installation
Cons:
May not be as durable as expected
11. Non-Adhesive Shelf Liners by Pabusior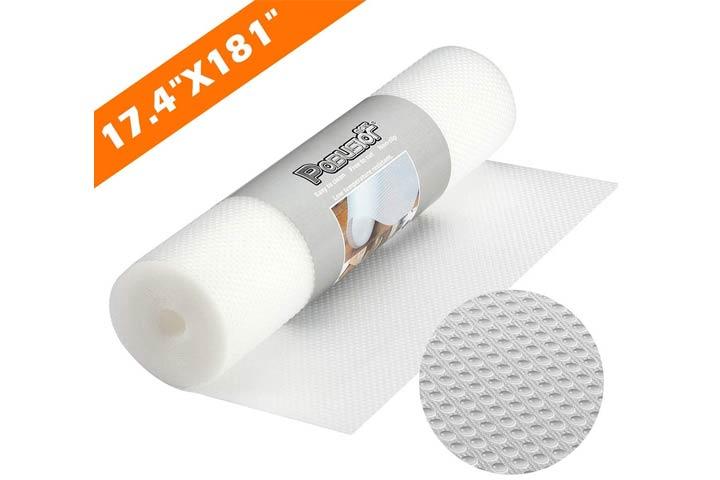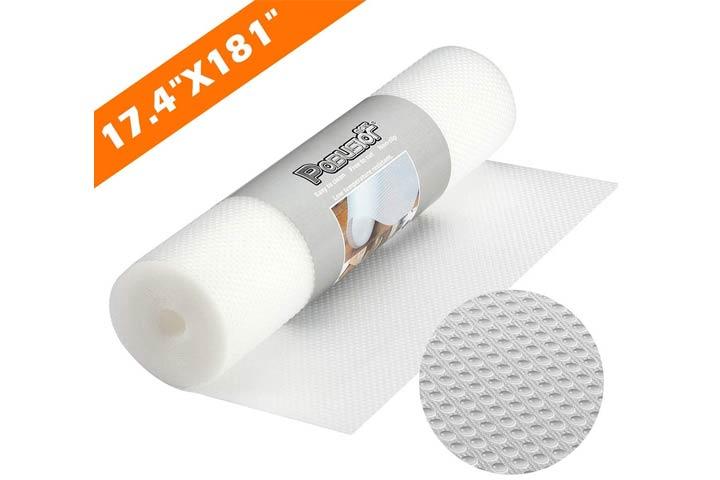 One of the best kitchen shelf liners, the product is reusable and can be cleaned with a mild detergent/soap solution and sponge or a wet cloth. The raindrop design liner is easy to install and measures 17.4″ x 15′.
Pros:
Made of BPA-free, food-grade EVA material
Safe for direct contact with vegetables and fruits
Comes in pre-cut sizes (standard) and can be trimmed as per requirements
Lies flat in the shelves without curling up
Non-adhesive, leaves no stains on the surface when removed
Low-temperature resistant
Cons:
May not stick to the fridge shelves as effectively as advertised
How To Choose The Right Shelf Liners?
Mentioned below are a few essential factors that can help you choose the best kitchen shelf liners with great features:
Type of adhesion: The shelf liners can either be adhesive or non-adhesive. While adhesive liners fit firmly on the shelves, the installation and removal may be a little tricky at times.
The non-adhesive liners, however, are easy to install and don't leave behind any sticky stains when removed. Both varieties of liners are designed to stay in place and prevent sliding or slipping of objects placed on them.
Material: Shelf liners may be made of different materials such as plastic, vinyl, polyester, foam, and cloth. While the choice of the material is based on individual requirements and preferences, make sure the shelf liner is waterproof, durable, and stain- and odor-resistant. For plastic shelf liners, the material should be BPA-free and food-grade EVA.
Cutting and installation: An ideal shelf liner is one that can be cut or trimmed easily with a knife or scissors for a universal fit. Additionally, the shelf liners should come with easy and hassle-free installation.
Following the installation, the liner should lie flat and firm on the surface, without any curls or clumps.
Ease of cleaning: Many shelf liners are reusable and can be hand-washed with a soapy solution and a damp/wet cloth. A few shelf liners can be machine-washed or are dishwasher friendly.
Wired or hard shelf: If you have to line a wired shelf, it is best to go with the hard shelf liners that will fit well on the surface without sinking into the gauge. However, for the shelves that come without holes (hard shelves), you can use either a soft or a hard shelf liner.
Frequently Asked Questions
How do I cut a shelf liner?
Most of the shelf liners can be cut or trimmed using either utility knives or a pair of scissors.
How do I keep a non-adhesive shelf liner in place?
In most cases, the non-adhesive shelf liners come with an anti-slip underside that keeps them in place. If the liner still keeps moving, you can use a mounting tape strip at the bottom to prevent it from moving or sliding.
How do I remove a shelf liner?
To remove a shelf liner (especially the adhesive ones), you need to:
Weaken the adhesion by applying heat (usually a hairdryer does the job) on the corners.
Now raise or pry up the liner from the corners using a putty knife.
Follow this by pulling the shelf liner backward slowly and gently until you reach the stage where you can't pull the liner any further (due to adhesion).
At this point, you need to weaken the adhesion again. To do so, you can spray warm water in that point/area of the liner.
As the adhesion weakens, continue pulling the shelf liner backward until you have completely removed it.
A shelf liner, when chosen right, will help in better organization and maintenance of the kitchen items. Be it a kitchen cabinet shelf liner or a refrigerator mat, study the features of the product carefully before buying. The liner should hold the items firmly in place while keeping dust, dirt, oil, and stains away from the surface.