0
Is there anything more practical than shelves? Shelves, especially corner shelves are true space savers, allowing you to store your items without having a big cupboard in the middle of the room. Building a decent shelf can be a struggle though if you don't have some reliable shelf plans handy. Don't lose hope – we are here for you!
Shelves come in all different sizes, shapes and difficulty levels, therefore we have compiled together the best shelf plans for both beginners and advanced woodworkers. The plans showcased here are versatile not only for their difficulty level but affordability as well – most of the shelves here will cost only $10-20, but some more complicated ones can cost more, all depending on what materials you decide to go for.
So, if you need some storage space, then wait no longer and pick your favorite design among these free plans – from corner shelves to floating shelves, we have it all. One thing is sure: you'll have a stylish and practical shelf ready in no time! And don't worry about the difficulty level – shelves are perfect as beginner wood projects.
Best Free Shelf Plans For Beginners
If you don't have tons of experience under your woodworking belt, it doesn't mean you should give up with building a nice shelf. There are plenty of options for you, even with less knowledge and to make your life a tad a bit easier, we are reviewing the best shelf plans that are very simple and won't take you longer than a weekend to craft (maybe even less!).
The easiest plan of the bunch can be made using just a jigsaw and a drill and the total cost can be as low as $45! Not too shabby, is it? When it comes to the necessary techniques, it should be noted here that you'd need to know how to make pocket holes but one of the plans has been made only by using dowels so it comes down to what techniques you know & love or what kind of a challenge you'd like to tackle next.
Top 3 Free Simple Shelf Plans
Take a pick: these 3 shelf plans are the finest out there for any beginner woodworker! Just choose one and start crafting!
These 3 plans showcase designs that look beyond good, but all of these are surprisingly easy to make. From corner shelves to simple floating shelves, surely you'll find a design that suits your home. All plans feature detailed guidelines so you can craft a nice shelf with just one afternoon or a weekend.
Take a look at our in-depth reviews of each plan so you have a better idea on what these plans represent and which one is the best for you.
#1 – Easy Corner Bookshelf
Usually, furniture items of size like this can be rather difficult and definitely on the borderline of advanced woodworker skillset, but surprisingly, this plan is the easiest of the 3. The reason for that is the simplicity of the project – it is made without any nails and screws and with the help of a jigsaw and a drill.
The cost of making this is another big advantage – the bookshelf can be built with only 3 wooden boards and 1 MDF board. That means, you are likely to build this shelf with close-to-zero expenses since you might have some necessary materials lying around somewhere already. This is the plan for such leftover boards!
The third most impressive advantage is the compact design. As it is a corner shelf, it can be integrated nicely into your living space, without having a big shelf on the way. The amount of shelf space assures you'll have plenty of room for all the books and other necessary items.
Build this compact and stylish bookshelf with this plan. 
#2 – Floating Shelves
These floating shelves look like pure magic! You can bring some of this magic to your home as well as building these cool shelves is not complicated at all. Moreover, the cost for all 3 should stay around $45 which makes this shelf set one heck of a nice deal!
It's a bit more complex than the previous plan, but don't worry – the plan has been designed for beginners and DIY-enthusiasts, so it's not a problem: all the cuts and assembly steps are simple, especially when following the detailed guidelines the plan provides. You can find both 3D instructions and step-by-step real-life pictures so you have enough details of the crafting process.
Build yourself these stylish shelves – download the plan here. 
#3 – Floating Corner Shelve
This is the most complex plan of the bunch and suits better for beginners who are a bit handier in woodworking already so they are not that much of beginners anymore. The key part of nailing this plan perfectly is taking extra time when cutting the pieces – just one wrong cut can mean that the whole shelf is out of place. However, if you pay attention and follow the plan neatly, you shouldn't have much worries with this!
The cost for building the shelves should stay below $100 which is quite impressive for the outcome you have – these floating corner shelves look awesome. Simple-looking and sturdy, these suit for every modern or classic interior.
Get crafting and check out the instructions for these shelves from HERE.
Best Free Corner Shelf Plans For Advanced Woodworkers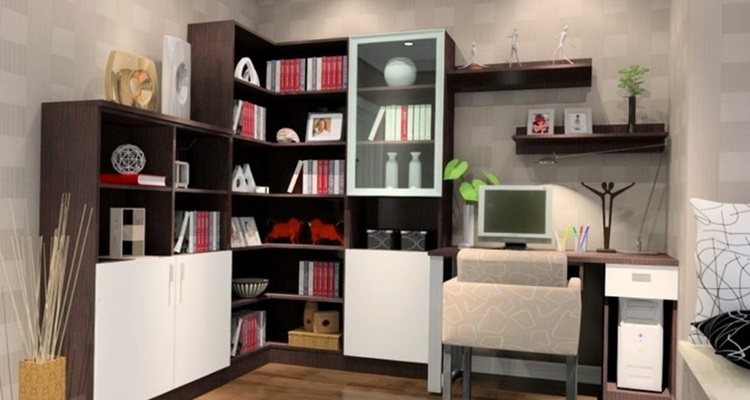 Though the plans under this category are all marked as "intermediate" and therefore suit better for advanced woodworkers, it doesn't necessarily mean they are extremely complicated. The reason behind these being deemed as better for advanced skillset is the level of details each of these plans has. Mostly, they require a good knowledge of assembling, cutting and doing different joinery, so the projects will run smoothly in the hands of a bit more knowledgeable woodworker.
These corner shelves are versatile and what's even better – they are affordable to build. Even the worst case scenario, building a corner shelf will cost you around $100. Not very bad or what do you think? It shouldn't take more than a weekend to build a shelf, no matter which design you go for.
Top 3 Free Corner Shelf Plans
If you are looking for the perfect corner shelf plan, these 3 are the ones to choose from. Pick your favourite one:
These 3 plans are almost like the polar opposites of each other – each of them teaches you a completely new way of building a corner shelf. From a cupboard to media center and rounded shelf, these plans have something for everyone.
To make it easier for you to make a decision on which one could be the best plan to take on first, take a look at these reviews that introduce the plans more closely.
#1 – Corner Cupboard
This is one of the most classic shelf designs, featuring a tiny cupboard space as well. A furniture piece can't get any more compact than this! The only part that makes this plan a little bit more complex is the amount of details that you have to cut and assemble – all of which have to fit together perfectly.
To ensure you get the project done perfectly, you'll get very detailed instructions for every step and every cut you have to make. If you follow those guidelines accurately, you shouldn't have any worries when building this practical corner cupboard.
Build the cupboard with the help of these great instructions that you can find from HERE. 
#2 – Corner Media Center
Fitting your TV together with a DVD-player and all the other essential media items can be a tough challenge, especially without a nice table or a shelf that is the exact right size. This corner media center plan is the thing you need – the plan teaches you exactly how to build a modern media center shelf space that looks just like it had been bought from a store.
Similarly to other plans showcased in our directory, you can find detailed project diagrams with measurements for every cut and part you need to make. Therefore, making this dream-come-true media center space is a matter of one weekend.
Don't wait any longer and download the free plan from here. 
#3 – Rounded Corner Shelves
Who knew building something so stylish can be so easy? Well, it is – thanks to the creative idea this plan features. The rounded shelving areas are actually made of 1 36-inch furniture round so your job is to cut all of the pieces and assemble them. Easy-peasy!
As there aren't many details and the overall construction is relatively small, it won't cost much to make this corner shelf. Easy, not time-consuming and affordable – it's pretty much the perfect corner shelf project.
The plan features a detailed project diagram with measurements and cutting list, real-life photos and even a short instructional video. What else could you wish for?
Craft this compact shelf – get the instructions from here. 
Summary
Article Name
Best Corner Shelf Plans
Description
Check out the best corner shelf plans – plans for both beginners and advanced woodworkers. Floating corner shelves and corner cupboard projects.
Author
Woodwork Boss
Publisher Name
Woodwork Boss
Publisher Logo