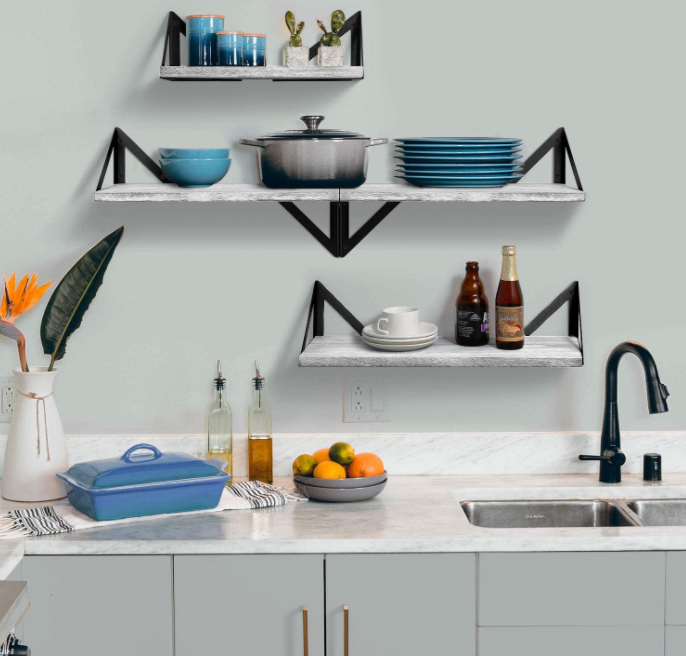 A floating shelf pulls double duty as a storage and decorative piece. With a hidden or creative means of support, these wall-mounted units are super sleek, offering a stylish and functional storage solution. Besides, they take up minimal space allowing you to enjoy a better ambiance even in a tiny home or office. For a satisfying outcome, remember to consider what you plan to shelve and how heavy it is. Here are a few floating shelves to get you off to a good start.
Staff pick
(Image credit: Amazon)
Love-KANKEI floating shelves
Functional and decorative
Love-KANKEI shelves are a perfect combination of solid paulownia wood and black powder-coated metal brackets. All that coupled with unique craftsmanship births retro pieces that are both stylish and functional. These shelves are perfect you love displaying collectibles, stuffed animals, small indoor plants, or family pictures. You can mount them in the pantry, kitchen, and bedroom. The shelves are superbly sturdy and can support up to 40 pounds.
Solid wood
(Image credit: Amazon)
SRIWATANA floating shelves
A piece of art as much as a storage item
Looking for endless shelving possibilities? Look no further than these rustic shelves that come in a set of three for adequate storage. You can either hang them separately or join them creatively to meet your display needs. With their hidden means of support and retro look, this will look flawless and artistic in your living space, bedroom, or study.
Best for wet areas
(Image credit: Amazon)
Soduku floating shelves
Damp-proof and heat-resistant
These units double up as floating shelves and towel holders, which is perfect for kitchens and bathrooms. They are crafted from superior quality radiata pine wood, metal towel holders, and protective guards. You can install them in the kids' bathroom as the protective guards prevent items from falling off. Also, the removable towel holder can be mounted separately, depending on your needs.
Floating classic
(Image credit: Amazon)
Melannco floating shelves
Traditional ledge design
Skeptical that your items may slide off a floating shelf? Well, the lip at the edge of these shelves will take care of that. The smallest shelf is six inches long and supports three pounds, while the longest is 24 inches and supports eight pounds. Regardless of the interior design of your home, the classic white finish on these shelves will effortlessly blend in. You have the option of grouping the four floating shelves together or separately.
Super sturdy
(Image credit: Amazon)
BAYKA floating shelves
Unbelievable load-bearing capacity
Made from matte metal brackets and solid paulownia wood boards, these floating shelves add a touch of class to your space while helping you declutter and reorganize. The stylish and pronounced metal brackets are a gentle reminder that they will stay put for years. Storage becomes way easier when paired together.
Simple and functional
(Image credit: Amazon)
Amada floating shelves
Stylish brackets
Need a magical transformation on your walls? These floating shelves are the answer. Besides a few screws, nothing much is needed to install them. The powder-coated metal brackets and paulownia wood design are enough to take your breath away and enhance the aesthetic value of any space in your house. They also come with a choice of two assembly designs; install the shelves with the board as pictured or on top of the brackets for a unique display.
Floating convenience
Change the way your house or office looks and get some much-needed space with these floating shelves designs. If you're looking to make a lasting impression, you can never go wrong with the Love-KANKEI floating shelves. They are detail-oriented and come in four incredible colors to match any home decor style or theme.
Maybe you are tired of the same-old way of installing your shelves, and you need a change. With two decorative display choices, the BAYKA floating shelves can give you the transformation you so deeply crave. The shelves can be set up with the board on top or beneath the brackets.