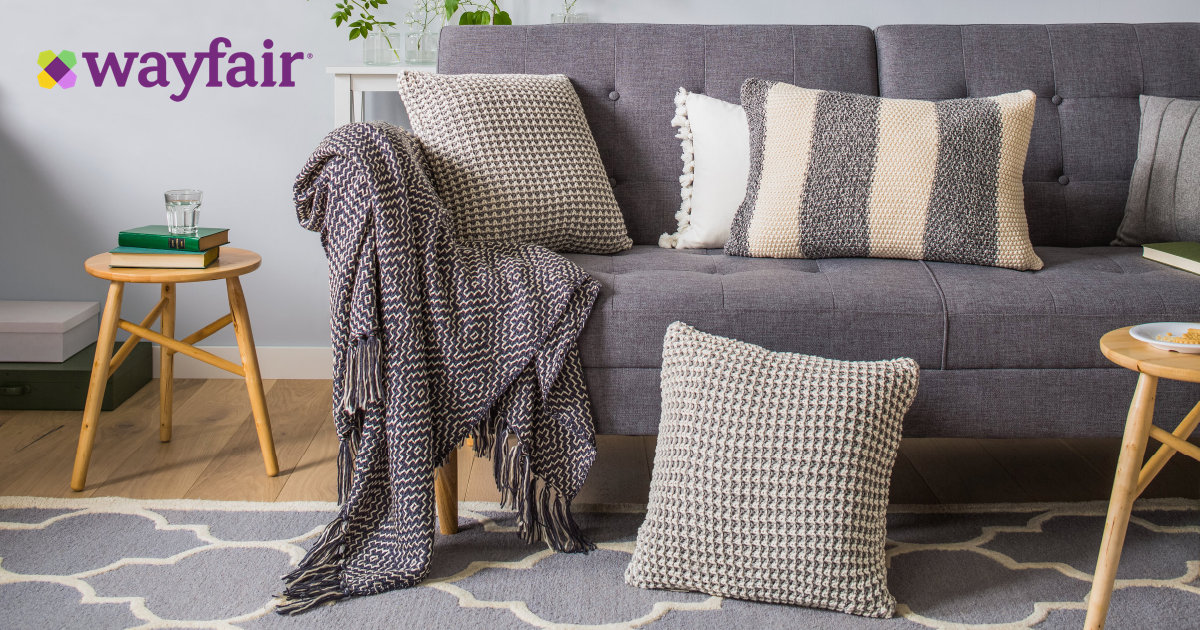 Kate: When we purchased our home nine years ago, one of the first things we did was convert the outdated three season den adjacent to our kitchen into an inviting and functional family room. We laid down new floors, replaced the impractical jalousie windows and painted the walls a soft, neutral tone. But, the one project I wanted to tackle for the longest time was to whitewash the dark brick surrounding our fireplace and paint the drab wood bookshelf and cabinets on either side of it a lighter color. It seemed like such a daunting task so I talked myself out of it for years while simultaneously longing for a warmer and brighter space.
Last year, after I spotted a simple tutorial on how to paint a brick fireplace, I finally decided to take the leap and the results turned out better than I could have imagined! It's amazing how a can of paint can dramatically change the look and feel of a room. Of course, after I gave the bookshelf a fresh coat of paint, I immediately started pinning ideas on how to style them in a way that would complement our new and improved space. I knew that I wanted to keep them simple, relaxed and visually appealing. As much as I love beautiful and delicate pieces, we do have four children, three of them being boys so these shelves had to be a compromise between stylish and functional.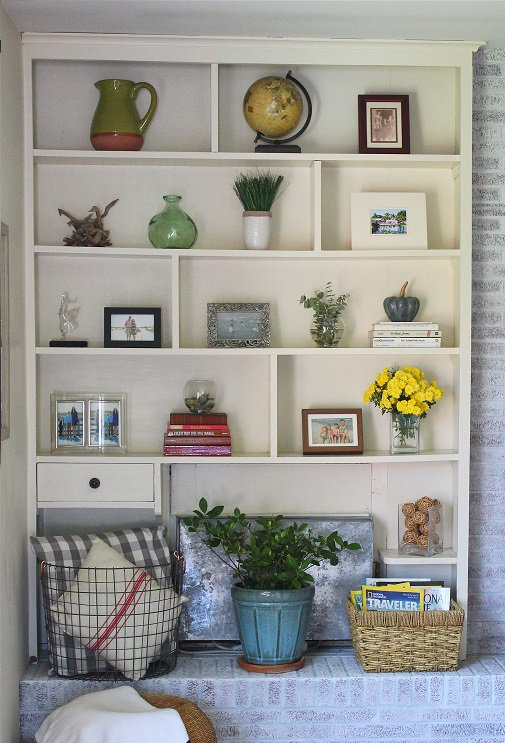 After many edits, I eventually settled on this arrangement which is a fun mix of shapes, textures, colors and natural elements. I'm sure this won't be the last time I style these shelves but when I do decide to change it up, I will certainly adhere to this fool proof formula:
Less is more: When I began this process, I gathered up all the items I wanted to display, knowing that they all wouldn't make the cut. By continuously placing them on the shelves in different ways, stepping back, and studying how they played off one another, it made it easier to decipher what pieces would work best for this space. The key to creating a soothing, uncluttered look is to edit. Bookshelves with breathing room are more visually pleasing than an inconsistent, haphazard collection.
Color coordinate: I find this to be a good starting point. I love to style pieces by color such as books, vases, frames, or decorative objects. I tend to stick to just a few colors to keep the overall look cohesive and clean. Color coordinating sets a tone whether the look you're going for is coastal, rustic, modern, traditional, or eclectic.
Mix it up: Keep in mind that bookshelves are not just restricted to books! A few of my favorite things to add to shelves are framed art, greenery (specifically succulents because they are low maintenance), vases (with or without fresh flowers), pretty candles, globes, and unique decorative pieces. I especially love stacking books horizontally so I can display objects on top of them for added dimension.
Personalize: This is my favorite part of styling shelves. Framed family photos, objects I've picked up while on vacation or at an antique shop, or pieces I've received as a gift are my most treasured items. Our guests always ask us questions about our photos or where we found certain objects or the books we have displayed. It's a great conversation starter when we're entertaining and conversely, I love visiting other people's homes and inquiring about similar pieces. They all tell a story while keeping fond memories alive.
Function: As much as a space should look visually appealing, it should also serve a purpose. So, I look at our shelves as a place to store things such as vases, pitchers, a basket of magazines, or a bin with extra accent pillows and a cozy throw. Another suggestion is storing items in glass jars, decorative boxes, or small bowls. Get creative and play around with it!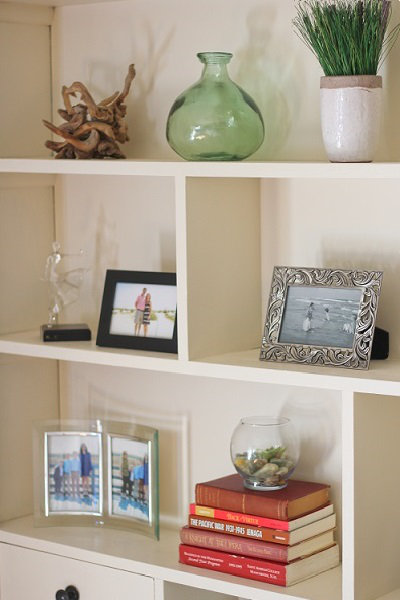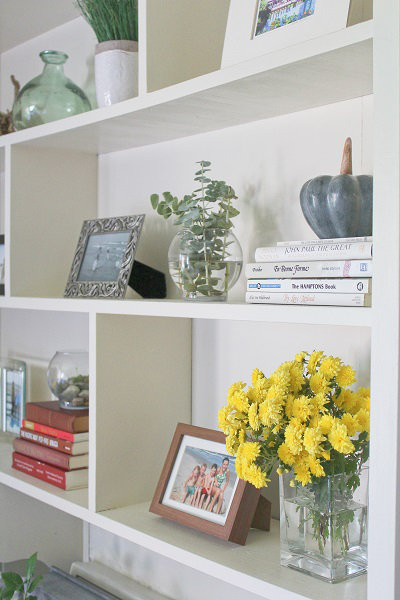 Styling a bookshelf is a continuous process. As the seasons change, it's fun to add festive accents or as new memories are created, it's rewarding to display the pieces that reflect those times. Just remember to experiment, put your own stamp on it, and sit back and enjoy the view.