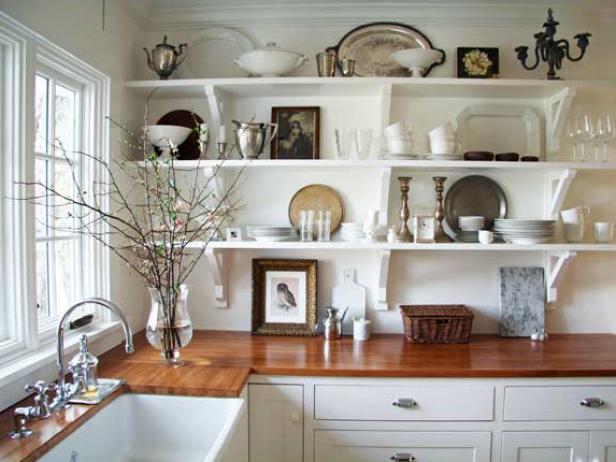 Farmhouse Charm
Combine function with decorative flair. The open shelving in this cottage-style kitchen provides a roomy expanse of storage, but it's also an opportunity to enhance the decor. Vintage pewter, china and other dishware mingle with practical supplies such as plates and glasses. The openness of the shelves also helps to preserve the serene, airy feel of the space and lends an old-fashioned note, evoking an era when most kitchens featured utilitarian shelves rather than banks of cabinetry.
Shelves and Drying Rack
Mix and match modular shelving. The fun of floating shelves such as these is that you can position them any way you want, which makes them an ideal choice for tiny kitchens and odd slivers of wall space. You also can combine different sizes and finishes, such as wood and stainless steel, for an eclectic effect.
Colorful Backgrounds
Does your kitchen need a jolt of energy? Add a shot of color. Coat the backs of open shelves in a saturated paint color, or cover them in pretty wallpaper. Choose a color that contrasts strongly with the cabinet finish to make an emphatic statement; if subtlety is your style, go with a more restrained hue. The color you choose also depends on what you plan to showcase — this collection of white dishware looks luminous against a turquoise backdrop. Courtesy of Plain & Fancy
Turn It the Other Way
Make use of wasted space. Open shelving can be a great way to put to work a spot that otherwise might have languished. The small double shelf tucked at the end of this kitchen countertop offers just enough room to store cookbooks and decorative flotsam, and it also gives the space a more graceful, less clunky look. Courtesy of Merillat
X Marks the Spot
Indulge in luxury. Specialized open cabinetry is a wonderful way to give a prized collection of china, silver, fine wines or other items the pride of place it deserves. Here, X-shaped inserts keep bottles organized, while the shelves for barware are tailored to the heights of the different pieces. A dramatic black finish underscores the elegant effect. Courtesy of KraftMaid
Uppers
Look up. If you aren't comfortable with open shelving at eye level, try limiting it to the row of cabinets near the ceiling. In this kitchen, the homeowner removed the upper cabinet doors to enlarge the feel of the compact space and add decorative interest without putting her entire kitchenware collection out in the open.
Hanging Shelves
Think vertical. Open shelves suspended from the ceiling rather than mounted on a wall have a wonderful floating quality that helps to make a space feel more expansive. It's also a terrific approach if you don't have wall square footage to spare in a petite kitchen. Although suspended shelving kits are available on the market, experienced DIYers could craft their own fairly easily. Courtesy of Legacy Kitchens
Open Cupboards
Create a furniture look. Corbels, molding and other furniture-style details give this built-in shelving unit the look of a freestanding hutch, which reinforces the kitchen's vintage air. You could paint the unit a contrasting color to enhance the standalone impression, or just paint the shelf backing to add depth. Design by Jane Ellison
Cabinet and Shelf Combos
Put it all out in the open. Stacked cubbies and wire shelving pepper this bank of cabinetry from top to bottom, putting pantry staples, dishware and cooking tools within easy reach. The potential pitfall of so much exposed storage? More space that you'll have to keep neat. Use bins and baskets to corral small items, and be selective about what you display in order to keep the look as visually pleasing as possible. Courtesy of ClosetMaid