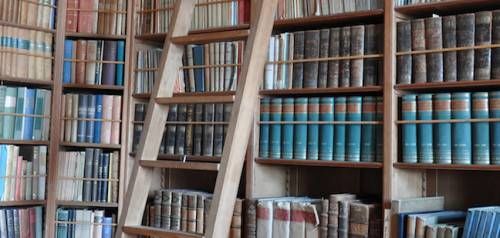 A few semesters into my graduate program in library science, I started to justify buying limitless quantities of books as a way to build my "collection development" skills. I would tell myself that my growing—and growing, and growing—piles of books and bookshelves stuffed two deep were actually my home library, not a dent in my checking account or enough dead trees to fill the Forbidden Forest. And while I know this rationalization is a dangerous one, leading to a slippery slope, I do very much believe in the power and pride I take in cultivating, organizing, and curating my personal library and like to geek out about home library bookcases.
In some ways, my home library obsession is firmly rooted in Disney's Beauty and the Beast, which I saw when I was an impressionable bookish girl. Who hasn't wanted that epic library, floor to ceiling packed with books?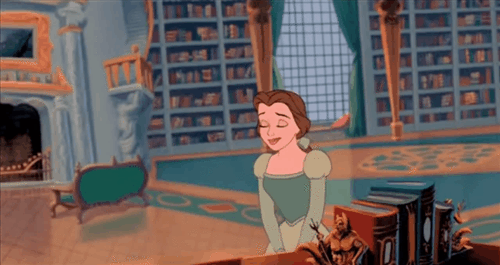 Belle's heart-eyes moment in the Beast's library.
There's a meme about the library in Beauty and the Beast that you have probably seen and, if you're like me, felt yes, jaw drop, forget the beast, I want to go to there…
I guess there is a part of me that has always wanted that library, to marry into one or build one of my own. I've also nerded out about the similarly amazing Citadel Library on Game of Thrones. Alas, I don't have sufficient wall space to recreate the Beast's library at home, or nearly enough books to fill those shelves (yet…). But there are endless ways to create a library experience in your own space tailored to your interests. Let's explore some of the choices available to librar-ify your reading space.
custom-built home library bookshelves
If you're not moving anytime soon and really want to go all out, it's a worthy investment to get custom shelving made for your home library. One of the leading specialists in building bookcases specific to your home and needs is Bookwalls, who offer library bookcase wall units in a variety of styles. I love their enclosed Two-Corner Maple Library.
Book Fetish Newsletter
Sign up to Book Fetish to receive emails about rad bookish items that will make your reading life a little better.
Thank you for signing up! Keep an eye on your inbox.
By signing up you agree to our terms of use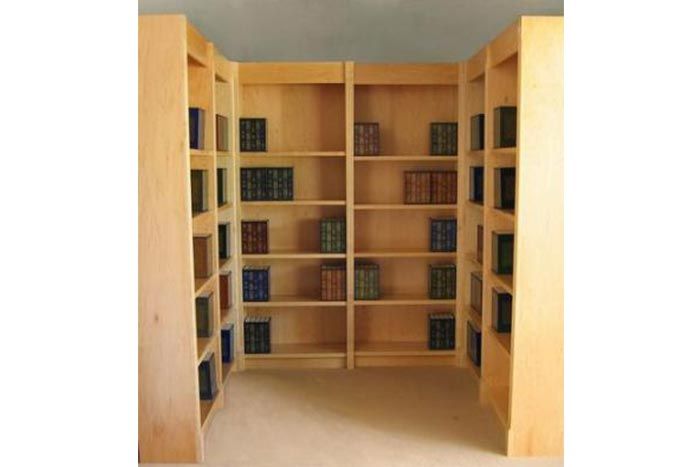 Two-Corner Maple Library by Bookwalls
A little corner library space like this would be amazing to show off for throwing a literary cocktail party or hosting book club night.
Other reputable artisans for custom home bookcases include California Closets and Highlands Designs.
ready-to-ship home LIBRARY bookcases
Sometimes you just need shelves now, and you don't have the measurements for your house in front of you. If you want to buy some ready-to-ship bookcases, there are plenty of reliable retailers to choose from. I've always loved Pottery Barn's bookshelves, and they offer an enormous range of products. I have a weakness for reclaimed wood pieces, like the Gavin Reclaimed Wood Bookcase.
Gavin Reclaimed Wood Bookcase at Pottery Barn
The stunning dark wash on this case is very library-esque, especially for collectibles, first editions, antiques, or niche genres like you would see in an archives or special collections library.
It's hard to beat the range in bookcase style and price than Houzz. Whether you're going for Midcentury or Medieval, you'll find inspired bookshelves here. Their sleek, gold Butler Modern Library Bookcase in gold is actually based on a piece from an antique French library. It makes me think of a library cart.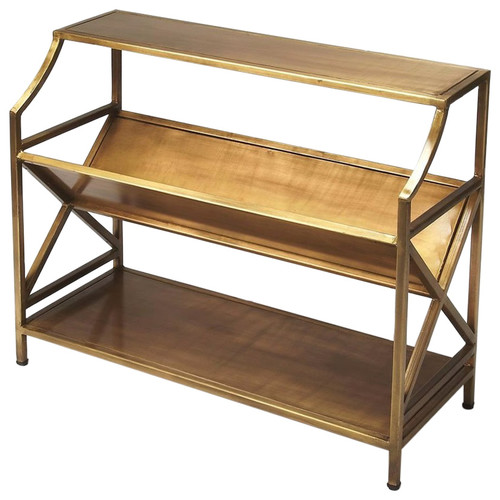 Butler Modern Librarie Bookcase – Houzz
The Alcott 3-Piece Bookcase Wall is one of the many library bookcases with ladders that you can get from Houzz.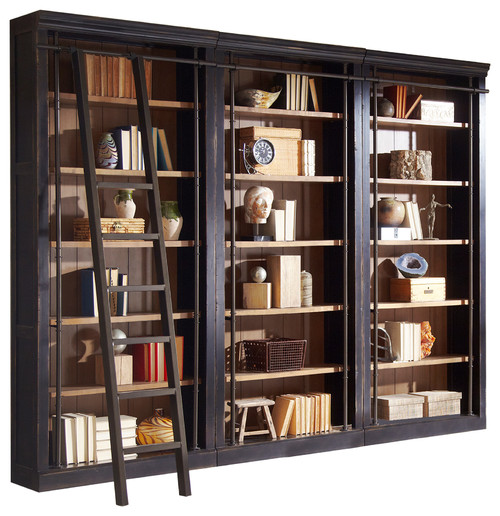 And if you're just looking for a ladder your home library bookshelves, you can purchase one a la carte from Houzz.
Judging on conversations on Book Riot's Slack, our bookshelf of choice is IKEA's Billy bookcase, an affordable, easy-to-assemble home library bookshelf option that has passed the Rioter test. There are several price-points and sizes, and the $79 model is a known workhorse.
IKEA's Billy bookcase (31 1/2 x 11 x 79 1/2″ version in black-brown)
You can buy Billy bookcases at IKEA online to pick up or ship, purchase them in stores, or even buy them on Amazon. To convert Billy bookcases into built-in shelving for your home library, this nifty tutorial from Eleven Magnolia Lane will walk you through the process step by step. Book Riot's buying guide for favorite reliable and affordable options for bookshelves is a great launching point as you customize your home library to fit your needs and budget.
industry-standard library bookcases
One of the first things you'll notice is that if you just Google "library bookshelves," the top results will be from vendors who supply traditional libraries with shelving options. If you really want to bring the library home with sturdy, industrial, yet sorta impersonal library bookshelves, head over to Demco or The Library Store and make it happen.
I've always loved curating the shelves in my living room to display a special capsule collection. With this Gaylord® End-of-Range Wood Bookcase, you can show off selected books from your shelves. "New Books," "Women's History Month," or "Dystopian Favorites," the categories of books you can feature are endless.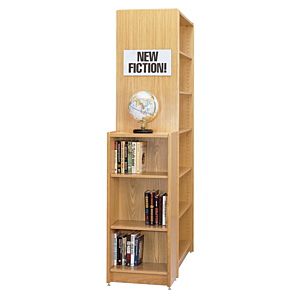 Display a capsule collection from your home library with this end-of-range wood bookcase.
I particularly love the Russwood® Curved Library Shelving. Just looking at this welcoming shape brings up warm memories from learning to love books in the elementary school library.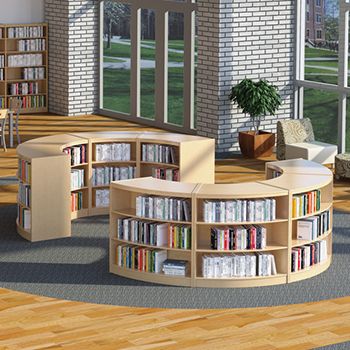 Like my cardboard box-loving cats, I get a certain comfort of being surrounded in a cocoon of safety. I'm already feeling my stress level drop in these curved shelves that would create a fort-like book nook. And if you're looking for bookcases for the younger readers in your home, these would be a great way to introduce libraries to kids.
You can also pick up some accessories to take it to the next level. Ever lusted after the cute holiday stickers on library book spines? Want to highlight some award-winning titles? How about some cute unicorns for fantasy books?
A majestic unicorn to match your majestic fantasy collection.
You'll find all kinds of labeling options for your home library at Demco.
bookish wallpaper brings a library atmosphere
If you want to fill in your space without the commitment or cost of buying shelves, consider getting some wall decals or wallpaper. These prints will instantly convert your space into a home library. Luxe Walls has tons of bookshelf wallpaper options for every bookish decor idea you have in mind, like their Modern Library Wallpaper.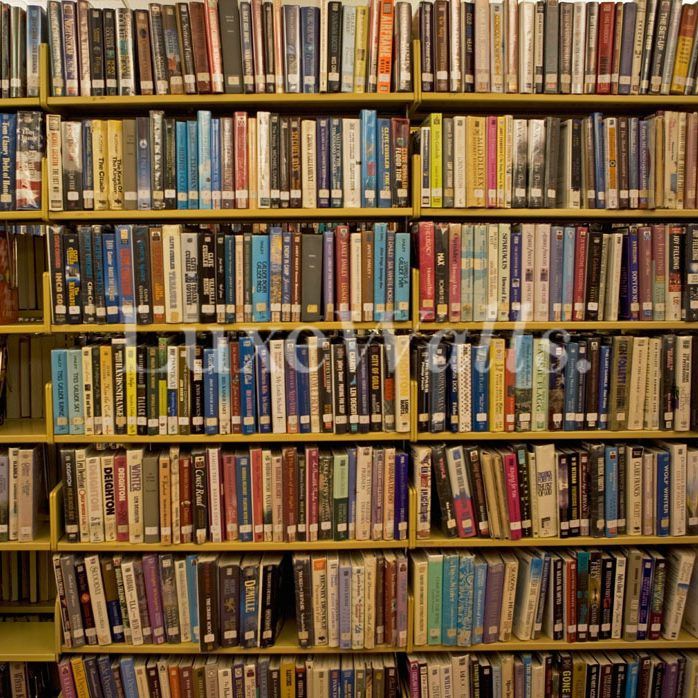 "Modern Library Wallpaper" from Luxe Walls
Wayfair also offers bookish wallpaper ideas, and Etsy's got you covered for library wallpaper by indie artists.
Ultimately, the best part of creating your own personal home library is you get to do it your own way, cultivating a space that is unique to your interests as a reader. When I have visitors, I am excited to show the books off and make people feel welcome in a bookish home, that same warm feeling I get in the library. At Book Riot, we've considered all the pros and cons of different ways to organize your books, and we'd love to hear more about what your dream library looks like. How would you arrange your shelves?  Is there a rolling ladder? A rolling library cart? Singing teacups and candlesticks? Leave a comment below and share your home library bookcases ideas.
Source