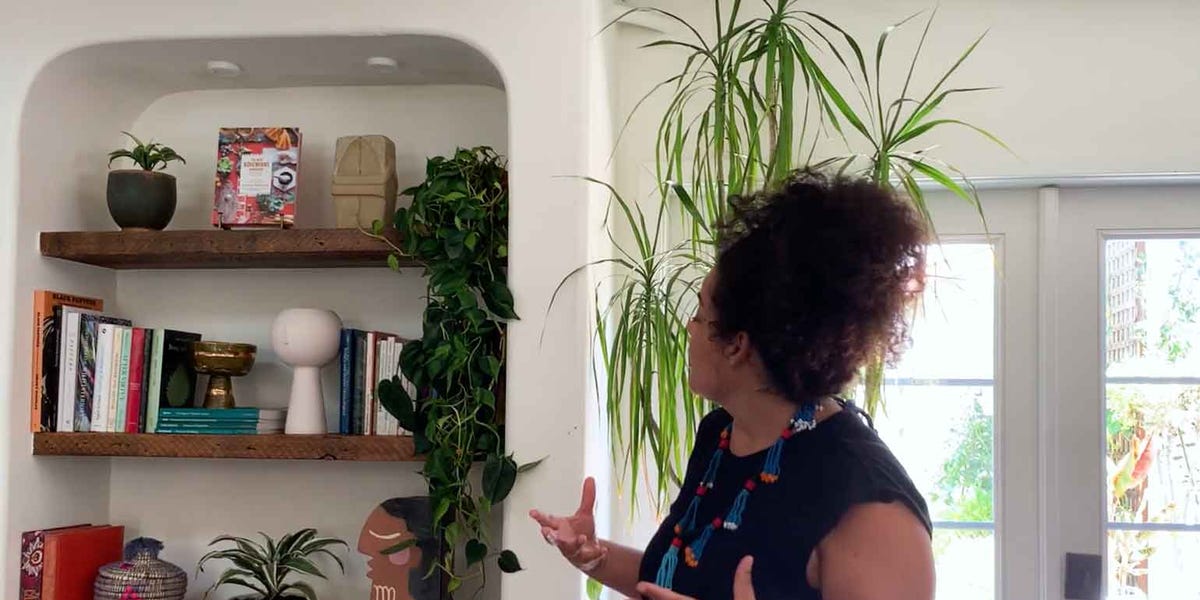 As avid readers and design enthusiasts, there's nothing we love more than a stylish bookshelf moment. From DIY floating shelves to design-savvy stacks, built-in cubbies, and even hidden library passageways, these bookshelf ideas are going to make sure you store and display your reading material in style. With this advice in mind, you'll always be shelfie-ready.
1 Choose a High-Impact Theme
To give a workspace or reading nook cohesion, upholster your floating shelves or cubbies in the same fabric as your seating. We love the contrast between the graphic houndstooth print and butterfly motif in this space designed by Studio Ashby. The stacked floating cubbies achieve great dimension, too.
2 Stack 'Em Under the Stairs
Bookshelf storage is a great way to transform that awkward space under your stairs into something beautiful. Decorated by Regan Baker Design, this one is actually a secret passageway that opens up into a storage closet—bookcases are the perfect decoys for hidden rooms.
3 Go Simply Stacked
Instead of splurging on a shelving unit, simply stack your books in neat pile against the wall. If you stack them close enough to your bed, you could use your books as a makeshift bedside table, too.
4 Try an Artwork Overlay
A Peter Rogers portrait of Alex Hitz's close friend, the late Nan Kempner, hangs in the library of his Los Angeles house. "The room doesn't get a lot of light, so I decided to make it cozy and turned it into an English-style portrait room, which is ridiculous, but fun," he says.
5 Vary Heights
This wraparound bookshelf by design duo Brockschmidt and Coleman becomes a work of art with its staggered height and shelves filled with colorful tomes.
6 Get Resourceful
Meet the easiest DIY bookshelf ever—this side chair is doubling as a bedside table and a bookshelf. The effortlessness has a charming appeal but it doesn't look sloppy in the slightest.
7 Saturate It In Color
A custom peacock-blue lacquer by Fine Paints of Europe give depth and richness to the library of a Chicago townhouse. Designer Steven Gambrel dialed up color here and throughout the home to compensate for Chicago's long winters.
8 Accent Floating Shelves
Have a blank wall and a few extra books with nowhere to go? Install a slim wall shelf to solve both problems in style.
9 Leave It Empty
Orange paint (Pratt & Lambert's Orange Spice) sets off the Palladian details of the bookcase in the living room of an Atlanta house. "I wanted that saturated color, as deep as I could get it," designer Kay Douglass says. "It almost becomes an art piece and helps make the room, instead of being just a place to store things. One of the biggest design mistakes people make is cluttering their world with too many things."
10 Opt for Easy Access
If you have a reading nook in your bedroom, keep your books within reach by setting up rows of floating shelves. They bring both color and structure to the space while also sprucing up a lackluster corner, as seen in this bedroom designed by Arent & Pyke.
11 Go for Clever Displays
Compact and understated, this vertical shelving unit makes books looks like they're floating on the wall without actually having to pick up a hammer. Oh, and we love the mini chair on the top shelf for a subtle touch of whimsy.
12 Give it Some Formal Flair
Put a large-scale piece of artwork in between two bookcases in a more formal sitting area, as Studio DB did here. It'll create a nice a sense of symmetry and set the tone for the color scheme.
13 Try Facing Backwards
Get creative with the way you display your books. As seen in this minimalist space, the books are stacked in alternating compositions, one pile laying horizontally and the other vertically. They achieve consistency by facing the page-side outward, though.
14 Go Glam with Mirrored Backs
In a California cottage designed by Stephen Shubel, mirrors installed along the back of the built-in shelving give the wall depth.
15 Try Open-backed Cubes
This asymmetric open cubby situation designed by 2LG Studio brings some offbeat intrigue to an otherwise empty wall. Fill yours with plants and vases to break things up.
16 Under the Bench
The only thing that can make a built-in reading nook dreamier is built-in book storage, as exemplified in this oasis designed by Studio DB.
17 Choose Multipurpose Shelves
In Deirdre Heekin and Caleb Barber's Vermont cottage, a bookcase is designed with a mantel-like shelf "to make it hearth like, since we don't have a proper fireplace," Heekin says.
18 Work in Disguised Shiplap
Take note from this space decorated by Arent & Pyke if you're looking for an understated way to add excitement to your bookshelves while also disguising materials. The shiplap walls are painted a lovely cool hue for a polished aesthetic.
19 Fill Negative Space
If your bedside table is open, stack your books underneath it fill in the gaps. This low to the ground vibe is very Wabi Sabi.
20 Frame a Door
Frame your door with floor-to-ceiling built-in shelving for a bookish border. Not only will it help you keep your collection organized, but it'll beautify the walls.
21 Build a Makeshift Bar
An antique bookcase doubles as a bar in this Manhattan apartment decorated by Phoebe and Jim Howard. Glassware by William Yeoward Crystal.
22 Wallpaper With a Story
A whimsical wallpaper is the perfect backdrop for your book collection. Choose one that tells a story to stay on-theme. Opt for an open storage unit as done here at Hasbrouck House so we can see the wallpaper in all its glory.
23 Get Strategic with Your Furniture
Instead of taking up surface and wall space with a bulky bookshelf in a work area, opt for a large desk or console table with spacious shelves to display your reading material. For added impact, try color-coding them, or lay them horizontally like Leanne Ford did here.
24 Apply Wallpaper
Twigs' Pheasant wallpaper energizes the broad expanse of shelves in the wife's home office of a house in Houston, Texas. Roman shades are Jasper's Indian Flower. Designer Ann Wolf used the fabric's border to trim the chair.
25 Add Graphic Detail
A herringbone pattern hand-painted by Christopher Rollinson gives the living room of Park Avenue apartment its "wow" factor. "In an important room like your living room, shelves should be a little more styled," designer Christina Murphy says.
Hadley Mendelsohn Design Editor Hadley Mendelsohn is House Beautiful's design editor, and when she's not busy obsessing over all things decor-related, you can find her scouring vintage stores, reading, or stumbling about because she probably lost her glasses again. Sarah Yang Web Editor I'm a web editor at ELLEDECOR.com, Housebeautiful.com, and Veranda.com.
This content is created and maintained by a third party, and imported onto this page to help users provide their email addresses. You may be able to find more information about this and similar content at piano.io