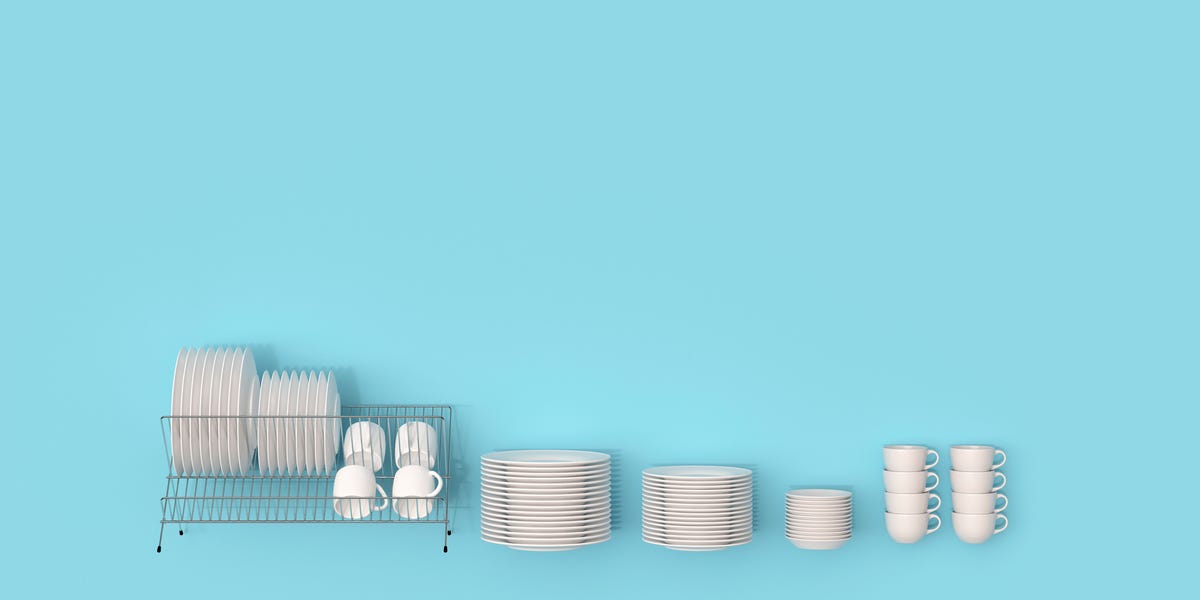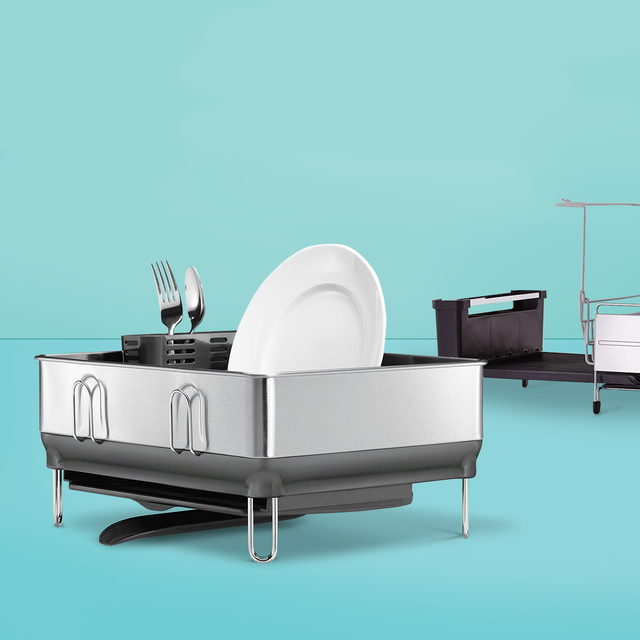 amazon
Though admittedly not the sexiest kitchen appliance, a dish drying rack is something the vast majority of kitchens — even ones with a dishwasher! — can benefit from. Sure, there are other options for those who do a lot of hand washing, like drain boards or microfiber mats, but a dish rack helps keep everything separate, allowing for better airflow and drainage, which ultimately speeds drying time, says Carolyn Forte, Director of the Home Appliances and Cleaning Products Lab at the Good Housekeeping Institute.
Letting dishes, utensils, and pots and pans air dry in a dish rack also tends to be a more sanitary option than towel drying, since there's no question as to how clean the towel you're using may be. Because they are hard surfaces and the dishes they hold are clean, drying racks are inherently rather hygienic, says Forte. The key to keeping them that way (plus, free from rust) is to keep them dry. When you're done, simply dry them off. And, for added insurance, some are even dishwasher-safe for occasional deep cleans. (Once every few weeks should be sufficient, says Forte.)
If you're considering adding a drying rack to your space, these are the top contenders hand-picked by the product experts in the GH Institute from trustworthy brands we recommend and products that have done well in Lab tests. From expandable tiered versions for avid cooks with tons to dry to fully collapsible over-the-sink alternatives for small spaces, each of these drying racks exists to make a dreaded task just a little bit easier:
Advertisement – Continue Reading Below
1
Best Overall Dish Rack
Steel Frame Dish Rack simplehuman amazon.com
$49.99
In Good Housekeeping Cleaning Lab tests, this dish rack was an all-around winner, because it was easy to assemble, sturdy, had excellent capacity, and drained well from two separate sides, says Forte. 
2
Best Value Dish Rack
Large White Antimicrobial Dish Drainer Rubbermaid homedepot.com
$8.94
Though there's nothing fancy about this utilitarian pick, these drainers do the job. "We use these in our Good Housekeeping Cleaning Lab dish detergent tests to hold all of our dirty dishes before we wash them," says Forte. "They are sturdy, well made, and can go in the dishwasher for easy cleaning." 
3
Best Dish Rack for Small Kitchens
Good Grips Folding Stainless Steel Dish Rack
If you're working in a small kitchen, you'll love this option. It conveniently folds for easy storage, so you can reclaim any lost counter space as soon as your dishes have dried. Despite it's size, it's fully functional, holding up to 12 plates with room to spare for bowls, cooking tools, and more. 
4
Best Extending Dish Rack
Expandable Stainless Steel Dish Rack Sabatier amazon.com
$69.99
The drain board expands from a mere 18.5 inches to an ample 29.4 inches, so you can conserve space on a daily basis, yet still have plenty of room for bulkier items like pots and pans when you really need it. It also comes complete with a removable stemware rack for hanging delicate wine glasses. 
5
Best In-Sink Drying Rack
Sinkin Drying Rack
Another wise choice for small spaces, since this compact drying rack has a low-profile design that nestles right inside your kitchen sink. It's easily customizable, too — if you need more space for larger pots and pans, temporarily remove the utensil holder. 
6
Best Roll-Up Dish Rack
Over-the-Sink Multipurpose Roll-Up Dish Drying Rack
You don't have to worry about taking up counter space or drainage with this pick, since it fits snugly on top of your sink. When not in use for drying dishes, it rolls up for easy storage — or can be used as a trivet to protect countertops from hot pots and pans or casserole dishes, says Forte. 
7
Best Over-the-Sink Dish Rack
In-Sink Dish Rack Polder homedepot.com
$14.98
This drying rack expands to fit over any size sink (from 15 to 27.5 inches wide) to let dishes drip dry right into the drain. It also features a rust-proof stainless steel construction to ensure it goes the distance, even despite heavy use. 
8
Best Customizable Dish Rack
Professional Dish Rack Premium Racks amazon.com
$59.99
A fully customizable two-tiered drying rack to ensure you'll never be at a loss for space. It has it all, including a removable top shelf that can be moved from side-to-side or front-to-back, a wide utensil holder, a separate knife holder, plus multiple cup and cutting board attachments. It also comes with two different style drainboards and a microfiber mat to keep water off your counters. 
9
Best Dish Rack for Pots and Pans
Full-Size Dish Rack KitchenAid amazon.com
$59.99
An attractive option with plenty of function, including a self-draining board designed with the perfect pitch to send water directly into your sink and adjustable compartments for utensils, cutlery, and other specialty items. 
10
Best Dish Rack for Wine Glasses
Collapsible Wine Drying Rack
For avid wine drinkers, a small station to keep delicate stemware safe while drying. It holds plenty—six standard or four-oversized glasses—but collapses flat for storage. 
This content is created and maintained by a third party, and imported onto this page to help users provide their email addresses. You may be able to find more information about this and similar content at piano.io
Advertisement – Continue Reading Below